2015 was an incredible year for Jewish life at Texas A&M. Here are just a few of the highlights!
In 2015, Hillel hosted 30 Shabbat dinners for students during the school year, including a very special Shabbat in December with new Texas A&M University President Michael Young! Young was the third TAMU president to visit Hillel!
Over 100 Jewish students used the A.I. & Manet Schepps building as a safe and comfortable place to study throughout the year.
A record 24 Aggies are currently participating in our joint Hillel and Chabad Birthright trip to Israel!
Two pro-Israel resolutions were passed by the TAMU Student Senate, including the first pro-Israel resolution nationwide of the 2015-2016 academic year.
The first on-campus Israel Fair was attended by more than 300 students who learned why Israel is so important as the start-up nation and the only democracy in the Middle East.
We hired the country's first USC Shoah Foundation Intern who hosted several on-campus panels about the Holocaust and genocide. On Yom HaShoah, Holocaust Remembrance Day, A 24-hour vigil was held, where students, faculty, and staff read the names of over 10,000 victims of the Holocaust in Rudder Plaza.
We BTHO Texas Hillel in our first-ever Giving Tuesday competition and received an award from Hillel International for our fundraising collaboration with Houston Hillel.
Rosh HaShannah and Yom Kippur services were attended by well over 100 students each and dozens enjoyed wonderful weather for Sukkot in our festive sukkah overlooking Kyle Field. (The photo is of students gathering in anticipation of Rosh HaShannah evening services, followed by an amazing brisket dinner!)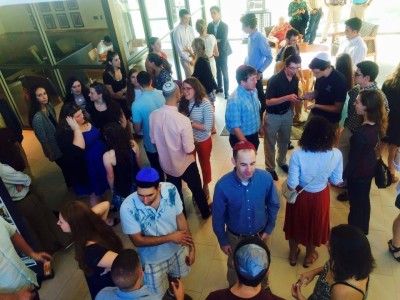 Rabbi Matt's weekly Torah study group met for spiritual and physical nourishment via bagels at Blue Baker.
The first Gefilte Fish Camp, a canoe and kayak trip on the Colorado River, was a successful endeavor to introduce new Jewish Aggies to the student and professional Jewish leaders of Aggieland.
TAMU's Student Body President Joseph Benigno released a statement of support for the Jewish community and its growth on campus.
Aggie Jewish Open House brought dozens of potential new Aggies to Aggieland for an informative and fun Shabbat.
The first night Passover seder was huge at Hillel followed by a more intimate seder at on-campus home of the Vice President for Student Affairs.
Please, we urgently need your help to support these and other great programs for our Jewish Aggies at Hillel! Please donate now to ensure that your gift is doubled in our matching gift program, which ends on January 15, 2016.