Shalom and Howdy!
I am truly thrilled and honored to be writing to you this New Year as the new rabbi and executive director of Hillel at Texas A&M! Even though I just started last month, I am so excited to be in the beautiful new building and meeting so many amazing students, faculty, and community members. We are poised on the edge of greatness here at Hillel and I need you to help me make this happen.
I have many ideas and plans for expanding and growing the Jewish community at Texas A&M. I want to make Texas A&M a destination for Jewish students throughout Texas. Did you know that our university is the country's largest without any sort of Jewish Studies program? Fair measure of a school or not, the lack of such a program is a significant barrier to many parents sending their kids to college. I am already working with faculty and administrators to change this.
I want to offer top-notch Jewish programming to our students, like they'd find at home i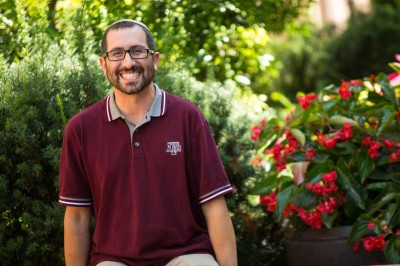 n Dallas, Houston, San Antonio, or Austin. I want to bring in dynamic speakers, Jewish comedians, and musicians to help connect our young people to their culture and tradition.
With most Jewish students on campus mostly assimilated, finding Jewish students who don't want to come to Hillel is a challenge. I want to send forth a team of student engagement interns who will utilize their social networks to ask around and meet unaffiliated Jewish students and meet with them one-on-one to find out about their Jewish journeys and to help create programing that will bring them to Hillel.
We have a gorgeous new building but now we need to offer dynamic and exciting programming within. I want to build a model Hillel program, one that shows the rest of the country that the Jewish community at Texas A&M is proud and thriving! It will require your support to build the Hillel that I envision. I truly hope that you'll take this opportunity to invest in the future of Hillel with your generous donation during these upcoming High Holy Days.
I'd love to connect with as many friends of Hillel as possible so please don't hesitate to reach out and give me a call at Hillel (979-703-1856) or email me, rabbimatt@tamuhillel.org, if I can be of any assistance.
L'shanah tovah tikatevu! Happy New Year! May you be inscribed in the book of life!
Rabbi Matt Rosenberg
Executive Director