Israel has been a major focus at Texas A&M this month, culminating in an Israel Fair on campus on Wednesday, April 13.
On April 5, Yaniv Sagee, Executive Director of the Givat Haviva National Education Campus, the Center for Shared Society and Jewish-Arab Center for Peace, joined Hillel students and staff for brunch prior to meetings with campus officials to further expand the Texas A&M and Israel relationship.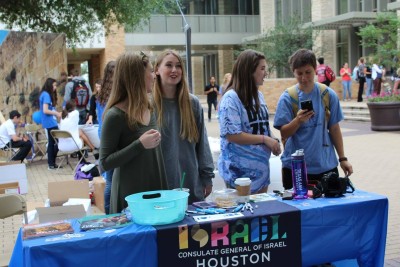 The following day, April 6, Israel startup entrepreneur Assaf Luxembourg joined the community for lunch and talked about Israel as the startup nation. Later that afternoon Luxembourg addressed and mentored over one hundred entrepreneurs-in-training at Startup Aggieland.
The climax of the month was the Aggie Israel Fair, which was held in Rudder Plaza on campus. Hundreds of students and university staff stopped by to learn about Israel in new and enlightening ways. There were student-run booths featuring Israeli innovations and technology, the Israel Defense Force, Israeli culture, and LGBT life in Israel. Students who stopped by all of the booths received a free Aggie Israel Fair t-shirt and enjoyed freshly cooked falafel and hummus.
On April 13, Texas A&M hosted former Prime Minister Ehud Barak on campus in Rudder Theater, where he was joined by Dr. Hanan Ashrawi, Palestinian Legislative Council Executive for a moderated discussion titled "In Pursuit of Peace: An Israeli-Palestinian Dialogue." Over 500 students and community members attended the conversation, which was sponsored by the student group Wiley Lecture Series.
In May, the Texas A&M Corps of Cadets is sending its first group of cadets to Israel on their summer International Excursion. The 24 cadets, who are eligible to participate in one international trip during their time in the Corps of Cadets, will be joined by Brigadier General Joe Ramirez, Commandant of the Corps of Cadets, Dr. Ashley Passmore, professor of international studies, and Rabbi Matt Rosenberg, executive director of Hillel. The two week trip will visit sites around the country and will receive briefings from military and governmental leaders. The cadets have been learning about Israel throughout the semester as they prepare for their trip.
Texas A&M is known as one of the most pro-Israel campuses in the country. The student government at Texas A&M was the first to pass a pro-Israel resolution last October. The university recently announced a partnership with the University of Haifa and other collaborative projects are in the works to further enhance opportunities for students and researchers to spend time in Israel.