Twenty-five Texas A&M cadets in the Corps of Cadets visited Israel in May on the first Corps Israel Excursion. The cadets were joined by Rabbi Matt Rosenberg, Commandant of the Corps of Cadets General Joe Ramirez, and other faculty members for a ten-day trip throughout Israel. This is the first time undergraduates have visited Israel on an official Texas A&M University program.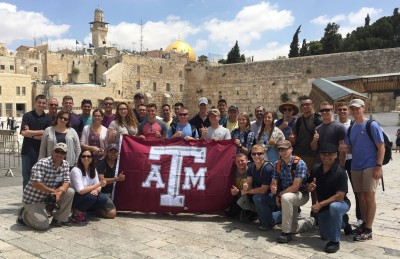 The cadre began their trip in Jerusalem with tours of the Old City, a meeting with representatives of the Consulate, and the Yad Vashem museum of the Holocaust. From there, the group visited the Jordan River and the Dead Sea, including a stop at the Qumran caves where the Dead Sea Scrolls were found. Rabbi Matt conducted Friday night Shabbat services at the Dead Sea.
The cadets and their entourage climbed Masada using the steep Snake Path and the group rested on their way north to Capernaum. They visited the Golan Heights for a jeep tour that included discussion of the strategic nature of the region for Israel. At the northern border, representatives of the U.S. military and the United Nations gave the cadets a briefing on the situation in the far north of Israel and the dangers faced by Syria.
Cadets toured Nazareth and visited the "Jesus Boat" that was excavated by A&M's own Professor Shelley Wachsmann. Based in Tiberias for a few days, the group took a boat ride on the Sea of Galilee. Heading west, the cadets visited ancient Acco and then Haifa and the Technion. Along the coast, Caesarea was an essential stop. Finally, the group wrapped up the amazing adventure in Tel Aviv, visiting a startup incubator, the U.S. embassy, military facilities, and of course the nightlife and daylife of the White City! It was an incredible trip that built bonds between students and Israel for years to come! Whoop!>