Incoming Jewish freshmen at Texas A&M participated in a new Aggie tradition, Gefilte Fish Camp. Held annually by Hillel and Chabad to welcome new Jewish Aggies to the community, the event consisted this year of an afternoon of fun at Lake Bryan.
Coby Moscowitz, a freshman from Michigan, reflected on the experience, "I really enjoyed getting to know other freshmen here at the lake. It was a fun afternoon and the dinner was outstanding!"
Thirteen new Jewish Aggies, from across Texas and around the country, participated in the second annual Gefilte Fish Camp. New freshmen, student leaders, and Chabad and Hillel staff enjoyed an afternoon of getting to know each other by canoeing, kayaking, and paddle boarding at the tranquil lake.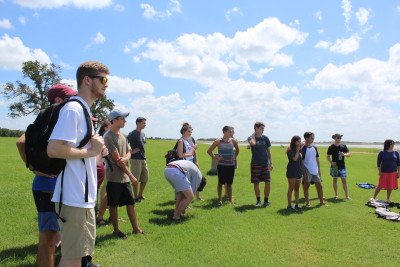 "We love welcoming new Jewish Aggies to Texas A&M's growing Jewish community," said Josh Hirsh, president of the Sigma Alpha Mu fraternity and a Gefilte Fish Camp attendee, "Gefilte Fish Camp is our fun way to welcome these new freshmen to the Aggie Jewish family!"
"As we continue to recruit the best Jewish students to A&M, we try to provide more opportunities for new or prospective students to learn about our warm Jewish community," said Hope Beitchman, Hillel student board member.
In February, the Aggie Jewish community will welcome prospective students to the annual Aggie Jewish Open House on February 10-11, 2017. Aggie Jewish Open House allows high school students to experience Jewish life in Aggieland combined with the campus-wide Aggieland Saturday.