by Hope Beitchman, Hillel Marketing and Communications Intern
"Forty Americans. Eight Israelis. One family." Over winter break more than two-dozen Jewish aggies traveled to Israel on birthright! A joint trip between Texas A&M Hillel and Rohr Chabad at Texas A&M, this trip marks our largest, and first joint trip containing of Aggies.
However, aside from the thirteen-hour plane ride, upon landing in Israel I didn't notice anything immediately different besides Hebrew writing on the signs. It wasn't until the next day when we had our first Shabbat that I felt like I was out of the United States. We had our first Shabbat in the basement of a hotel. Although we didn't have services in a fancy temple or at Hillel, it was still special. The next afternoon we had Havdallah services in the lobby. In America, if you were to do this someone would complain and likely ask you to leave. However in Israel, the opposite happened. People joined us! This was when I really felt like I was in Israel. It was so nice not to be part of the minority, if only for two weeks.
On our journey through Israel we had eight Israeli soldiers accompany us for several days. During this time we got to learn what it was like to live in Israel at our age. I learned what it was like to grow up in Israel, and was surprised at how similar some of their interests and lives were to my own. Now two weeks post trip we all still talk as if we knew each other for years.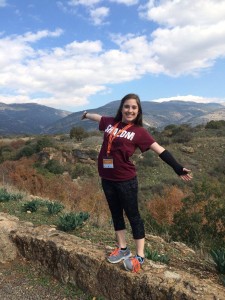 We spent almost two weeks in the foreign land. While there I learned so much about my Jewish heritage and the history of Israel in such a short amount of time. We had an excellent Israeli staff that made it fun to learn and made sure we were never bored. From learning new songs to Hebrew word of the day, Benyamin and Lizzie made sure we never had a slow moment. Having Danielle and Rabbi Yossi as staff members was amazing! It was so great to experience Israel with them and having a familiar face so far away from home!
Our journeys highlights include visiting ancient sites, sleeping in Bedouin tents, visiting the Western Wall, meeting Israeli soldiers our age, floating the Dead Sea, hiking, jeeping, riding camels, and so much more.
The trip was a life-changing experience. I learned so much about my Jewish heritage, the history of Israel, and made so many friendships that will last a lifetime. If you have not gone on a Birthright trip I highly recommend it! The next Jewish Aggie trip leaves this summer sign up now!