by Hope Beitchman, Marketing and Communication Intern
Texas A&M ended the 2015-2016 school year with a series of events on campus that remembered the Holocaust.
On April 18, Dallas-based Holocaust survivor Rosa Blum spoke to a standing- and sitting- room only audience in the Memorial Student Center. Blum's visit was sponsored by Hillel and attended by nearly 300 students. Local television news covered Blum's story of her experience as a young woman in Auschwitz. Blum was born in Romania in 1928 and was transported to Auschwitz in 1944. After the war, she returned to Romania but received a visa for the United States in 1950. She moved to Dallas and worked for decades as a seamstress for Neiman-Marcus. This was Blum's first visit to College Station.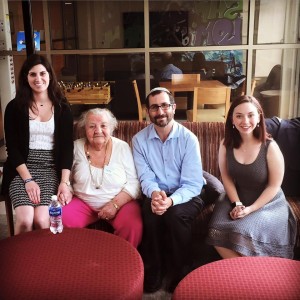 On the last day of classes, May 3, Texas A&M Hillel sponsored an early Yom HaShoah (Holocaust Remembrance Day) observance which was an eleven-hour reading of names of victims of the Holocaust. Two students simultaneously read names in 15-minute shifts from 10 a.m. to 9 p.m., one hour for each of the eleven million killed by the Nazi regime. Students from all backgrounds signed up to read, which resulted in about 20,000 total names being read over the course of the day and evening in the central campus location of Rudder Plaza.
At noon on May 3, Alpha Epsilon Pi sponsored their first We Walk to Remember on campus. The international Jewish fraternity hosts walks in commemoration of the Holocaust on or near Yom HaShoah. The walk began at Rudder Plaza with an introduction by Ryan Shulman of AEPi and a recitation of the Mourner's Kaddish prayer by Rabbi Matt Rosenberg. The walk continued into the Academic Plaza and library courtyard, returning to Rudder Plaza upon its conclusion.
Pictured in photo from left to right: Danielle Freedman (Jewish Student Life Coordinator), Rosa Blum (Holocaust Survivor), Rabbi Matt Rosenberg (Hillel Executive Director), and Toni Nickel (Hillel's Holocaust Education Intern)