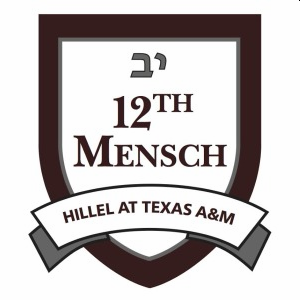 Our 12th Mensch Club is now accepting members for the 2019-2020 school year.
To become a member of the 12th Mensch Club, all you need to do is donated $1,200. You can donate securely online, thru our Venmo account, or mail your check to Hillel at Texas A&M, 800 George Bush Drive, College Station, TX 77840. You can also become a member by making monthly credit card payments. Simply send us your contact information (including email) and we will send you a recurring payment link via PayPal.
Parking passes will be sent to the next 39 donors enrolled in the 12th Mensch Club on Friday, August 16, 2019. Our lot is not very large, so parking passes are limited.
Other benefits include recognition for co-sponsoring a Shabbat dinner, free admission to High Holy Day dinners and services at Hillel, and website recognition.
Enroll today and help support Hillel, a home away from home for Texas A&M's Jewish students!