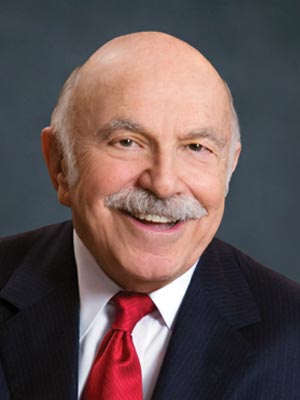 From The Association of Former Students:
Distinguished Alumnus Awards
The Distinguished Alumnus Award is the highest honor bestowed upon a former student of Texas A&M University. The award, jointly sponsored by The Association of Former Students and Texas A&M, recognizes those former students who have made significant contributions to society and whose accomplishments and careers have brought honor and distinction to Texas A&M and The Association of Former Students.
Ed Wulfe '55, who was awarded the Distinguished Alumnus Award in 2017, will be honored at the 2018 Distinguished Alumni Gala.
The Association of Former Students will further honor all recipients of this award during its annual Distinguished Alumni Gala on Oct. 5. In addition, the 2018 recipients will be recognized during the Oct. 6 Texas A&M football game against Kentucky.
Edmond Wulfe '55
Awarded: 2017
ED WULFE '55 received a bachelor's degree in mechanical engineering. As a student, he served on 2nd Wing staff as a cadet lieutenant colonel, was a Ross Volunteer and a member of the Freshman Drill Team and the Senior Court, and was president of Texas A&M Hillel.
He is the chairman, CEO and founder of Wulfe & Co. commercial real estate brokerage, development and property management firm. Among properties he has developed: BLVD Place, which won a 2015 Houston Business Journal Landmark Award; redeveloped Meyerland Plaza, which was honored among "Deals That Made a Difference" in 1995 and 1996; and Gulfgate Center, which won the Houston Chapter of the Urban Land Institute's 2012 Development of Distinction Award and Best Rehabilitation Renovation Project in 2003. He was previously executive vice president and a director of Weingarten Realty Investors.
He serves on Texas A&M's Master of Real Estate Advisory Board, has been a lecturer for MBA students, created an endowed scholarship in Mays Business School, and funded an auditorium in the Texas A&M Hillel Building. He has been a Diamond level member of The Association's Century Club, with 33 years of giving.
He chaired Houston Mayor's Main Street Coalition, leading redevelopment of the city's Main Street Corridor; chaired the Stadium Park Redevelopment Authority; chaired a referendum to expand Houston's light rail and transit systems (2003); and co-chaired a $100 million parks bond issue campaign (2012). He has served on executive committees and boards for Greater Houston Partnership, Houston Symphony, Scenic Houston, Holocaust Museum, Uptown Management District and the Texas Bowl.
His family includes wife Lorraine, four daughters, seven grandchildren, extended family of two daughters and three grandchildren, and his brother Emil Wulfe '58.