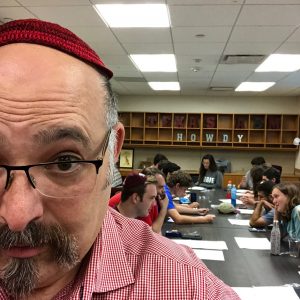 We are excited to bring Jewish Learning Fellowship (JLF) to Hillel at Texas A&M this semester. For 10 weeks, students who enrolled in this course will meet with Rabbi Jonathan Siger to follow the JLF curriculum.  Upon successful completion of the course, each student will receive a $300 scholarship.
The group met for the first time on Sunday, September 23, 2018.  The students enjoyed learning with Rabbi Siger.  We look forward to them using their new skills in the real-world.
The Jewish Learning Fellowship (JLF) is a 10-week experiential, conversational seminar for students looking to deepen their understanding of Judaism on their own terms. Visit their website for more information about this seminar.