We are excited to announce that Jonathan Rahmani, an exercise physiology major from Dallas, has been selected to serve on the Hillel International Board of Directors! More importantly, Jonathan is the loudest and proudest member of the fighting Texas Aggie Class of 2015.
In addition, Jonathan is the executive vice president of our Hillel student board, an active member of Sigma Alpha Mu fraternity, a Hillel engagement intern, a member of the Texas A&M Interfraternity Council, and a student staff member at the Memorial Student Center on campus. Jonathan hopes to begin his career in Jewish communal service following graduation next May. As a member of the Hillel International Board of Directors, Jonathan will attend three board meetings held at Hillels around the country.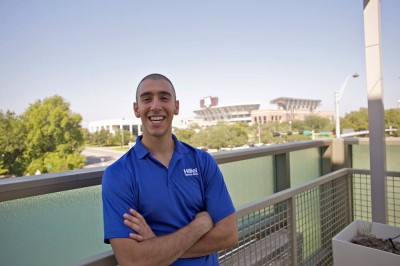 However, Jonathan's first trip takes place next week as he represents Hillel International at the Jewish Federations of North America General Assembly being held in Washington D.C.

Jonathan was also selected as one of one of fifty mentors to serve as a facilitator at AIPAC's Schusterman Advocacy Institute High School Summit being held in Washington D.C. The summit convenes 400 student leaders from across the country for Israel advocacy and political activism training. Mazal tov Jonathan!