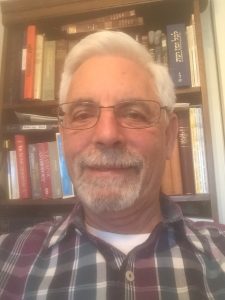 This semester Rabbi Matt Michaels will be our visiting Rabbi.  He will help with worship services on Friday nights and hold Torah studies on Saturday mornings.
Rabbi Matt Michaels will be here on February 9th, 16th, 23rd, March 23rd, April 13th, and April 27th.
Saturday morning Torah studies will be held at different locations throughout the semester.  Check back here, like us on FaceBook, or follow us on Instagram to find out when and where Saturday morning Torah studies will be held.
Prior to coming Texas A&M Hillel, Rabbi Mathew D. Michaels served congregations in Knoxville, TN; Spring, Houston, and Brownsville, TX.  He also served as the Interim Executive Director of the Hillel Foundation for Greater Houston and Interim Rabbi in Beaumont and Plano, TX.
Rabbi Michaels earned a B.A. in Political Science from the University of California Los Angeles (UCLA), a Master's of Hebrew Letters from Hebrew Union College-Jewish Institute of Religion, Los Angeles and was ordained from HUC-JIR, Cincinnati in 1980.  In 2005 HUC-JIR bestowed the title of Doctor of Divinity, Honoris Causa in recognition of his 25th anniversary in the rabbinate.
Rabbi Michaels is the proud father of Mara (Daniel), Martin (Jennifer, TAMU Vet school grad), and twins Mindy and Benji (Anna) and an even prouder grandfather of Ronit, Ravi, and Hana.
Rabbi Michaels has invited students to contact him directly (all conversations are confidential):
His phone number is (713) 306-4114
His email is rabbimdm@gmail.com