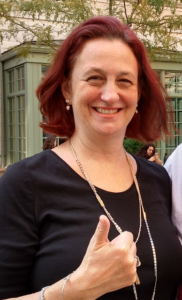 We are pleased to announce that Risa Bierman has been promoted to Executive Director of Hillel at Texas A&M. Risa, who has been serving as our assistant director since last summer, has lived in College Station for 22 years and has been actively involved in the local Jewish community. She has taught in religious school, has been a long-time member of the social committee, and is currently on the Board of Directors of Congregation Beth Shalom in Bryan. Risa has 25 years of experience working with college students at various institutions across the country, and until recently worked in the department of Student Life at Texas A&M. While Risa was Director of Greek Life, she helped Sigma Alpha Mu colonize. Risa's husband is a professor at Mays Business School and she has two high school-aged sons.
Risa is excited to continue her work with Jewish students at Texas A&M and to inspire Jewish learning and community engagement. Please feel free to come by and meet with Risa, as she is ready to help you in any way she can! Risa can be reached at risa@tamuhillel.org.
We will be hosting visiting rabbis from across Texas for services and upcoming events for the next few months, as Risa and Hillel search for a Rabbi/Senior Jewish Educator to join our staff. Please join us for services Friday, January 19th at 6:30 p.m. as we welcome Rabbi Matt Michaels from Houston to join us in prayer.
Sincerely,
Nancy Brand and Richard Wolf
Corporate Board Co-Presidents