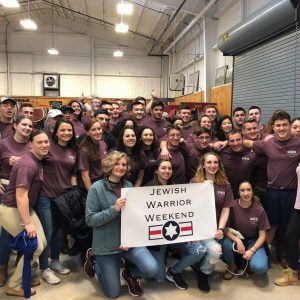 2018 Jewish Warrior Weekend was a huge success.
Thanks for visiting, Jewish Warriors!
The weekend of February 2-4, 2018, 52 Jewish cadets from 10 different schools from across the nation converged on to Texas A&M for a weekend of spirituality, friendship, and learning.  The objectives were to reaffirm the cadets' commitment to the military and the Jewish people, to create a support network within the military, and to encourage a community of Jewish military personnel.
One main objective was for the cadets to learn to be lay leaders.  The cadets were trained by Rabbi Abbi Sharofsky, Deputy Director, JWB Jewish Chaplains Council.  They conducted Friday night and Havdalah services.
The plan is to continue to grow Jewish Warrior Weekend and have it every fall and spring semester at different locations around the country.  The next Jewish Warrior Weekend will be hosted by the US Naval Academy in Annapolis, MD in November 2018.