A group of more than a dozen Aggies were privileged to attend the AIPAC National Summit in Dallas on November 2-3 in Dallas, Texas. A&M was very-well represented by Jewish and non-Jewish student board members from our Israel advocacy group Aggie Students Supporting Israel along with the student body president, the student body vice president, the student government chief of staff, and the vice president of Texas A&M College Republicans.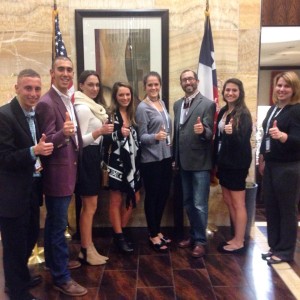 The group attended sessions on Israel advocacy at venues across Dallas, from the Dallas Museum of Art to the Majestic Theater to AT&T Stadium. It was two days of amazing presentations and speakers that won't soon be forgotten by the students in attendance from A&M and universities across Texas and Oklahoma.
Several of our Israel advocacy leadership students are also looking forward to attending the Saban leadership seminar in Washington D.C. over winter break. Hillel student board president Dan Rosenfield was a presenter at the National Summit, discussing Israel advocacy at Texas A&M. Dan has also been selected to participate in the Advanced Advocacy Mission to Israel over winter break. The mission is AIPAC's most intensive leadership development experience. We're very proud of Dan and all of our students supporting Israel on and off campus!